We interrupt our regularly scheduled program of design legends to bring you this very important news! One of my favorite artists is having an online sale tomorrow. You don't want to miss it! (If you have read Mireille Guiliano's
French Women Don't Get Fat
, you know his work already.) Here is the information from the artist himself.
R. Nichols Original Art Sale
Wednesday, April 24th 1:00 pm EDT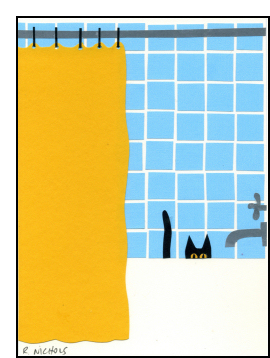 The R. Nichols Original Art Sale begins in just 24 hours!

I've been busy creating - and our gallery is chock full of goodies .
All artwork is original paper collage, measures 4 5/8 X 6 1/4 and is signed by R. Nichols.

The pieces range from $50 - $245.

At 1pm EST on Wednesday, April 24th (tomorrow) the artwork will become available on our website. You will want to refresh your browser at 1pm.
It's been nearly 2 years since our last art sale - so these opportunities do not come around often. Historically, the pieces have sold very quickly. You'll want to be poised at your computer when the sale begins.
I hope you take a few minutes to tour our
little gallery
.

R. Nichols

www.r-nichols.com